Вы уверены, что хотите выйти
из Вашей гостевой учетной записи?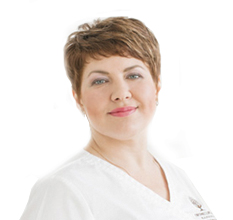 Medical trainer, grade «Profi»
Natalia Kusaya
Doctoral Candidate of Medical Sciences, board certified dermatovenereologist, cosmetologist and oncologist, certified Hyalual trainer, Profi grade.
14 years of experience in the Yutskovsky's Professorial Clinic.
Certified Hyalual trainer starting from 2016; Ipsen trainer. Authored over 30 publications and 2 technical improvement suggestions, presents at Russian national and regional conferences.
After completing an internship in dermatovenereology, joined Yana and Alexander Yutskovsky's team in 2003 as doctor and member of the creative team of the first cosmetology course of the Vitebsk State Medical University.
In January 2010, became an assistant professor in the Department of Dermatovenereology and Cosmetology of the Pacific State Medical University; promoted to associate professor in November 2013, stayed in that post until 2015. Has extensive teaching experience in the above department as well as the PSMU medical postgraduate study department in Cosmetology.
Between 2005 and 2008, completed the part-time doctoral program in Immunology and Allergiology with the department of pathological physiology; in 2009, completed a PhD thesis on Specifics of Immune and Cytokine Status in Demodicosis Patients.
In 2007, became certified in Oncology, and completed a number of trainings in skin visualization techniques: ultrasound diagnostics with taberna pro medicum (tpm), Moscow; computer dermoscopy for skin growth diagnostics with the St. Petersburg State Medical University named after I.P. Pavlov (further training in 2010); dermoscopy in medical practice: diagnosing melanomas and other skin growths (Moscow).
Trained in Cosmetology in 2007, certified in 2015.
In 2013, received board certification in Dermatovenereology.
Main areas of clinical practice: diagnostics and treatment of patients with cosmetic skin issues. Proficient in clinical laboratory and machine diagnostic techniques. Practices life-time tissue diagnostics (tissue smears, punch biopsy, incision biopsy) and treatment of growths (radio-wave excision).
Since 2015, actively practices cutting-edge cosmetology techniques: chemical peels, injectable therapies, Botulinum toxin therapy, treatment of skin conditions and growths for best therapeutic outcomes and aesthetic improvement.
Her sphere of interests in medical practice includes treatment of acne and acne-like dermatoses: perioral dermatitis, rosacea, demodicosis, post-acne correction; diagnostics, removal and prevention of skin growths; correction of scars and soft tissue involutory changes.


In 2016, awarded a Certificate of Merit by the Council of Vladivostok.
Attends and presents at regional and international conferences (Vladivostok, Khabarovsk, St. Petersburg, Moscow). Frequently interviewed in the media. Takes part in ongoing social projects, such as Melanoma Diagnostic Day and My Choice: Help the Children.
Show all