Вы уверены, что хотите выйти
из Вашей гостевой учетной записи?
Xela Rederm Launches in Indonesia
12.11.2019
This October saw a full-scale launch of Xela Rederm in Indonesia, made possible through the successful partnership between Hyalual and Unison Medika. A series of 6 master classes for medical professionals and top clinics were held in the three largest cities of Indonesia.
The visitor count was truly impressive: over 200 medical professionals came to master the linear and papullar techniques, and learned about the Redermalization methods applicable for the face, neck, hand and décolletage areas.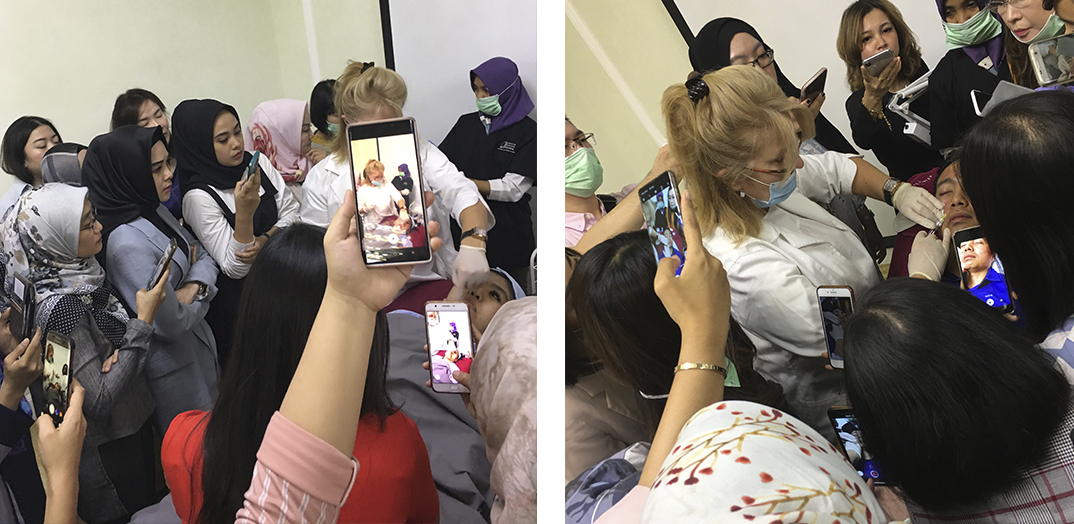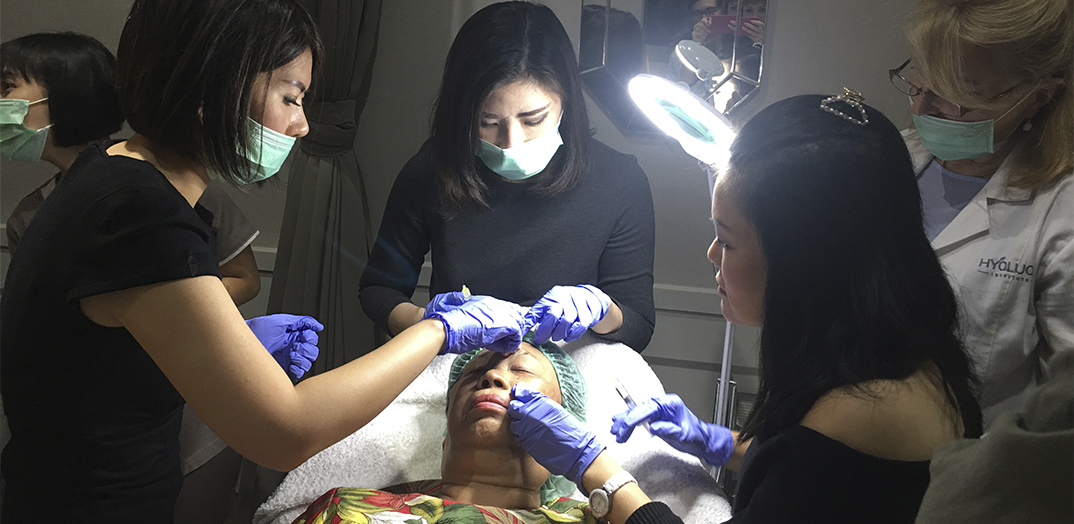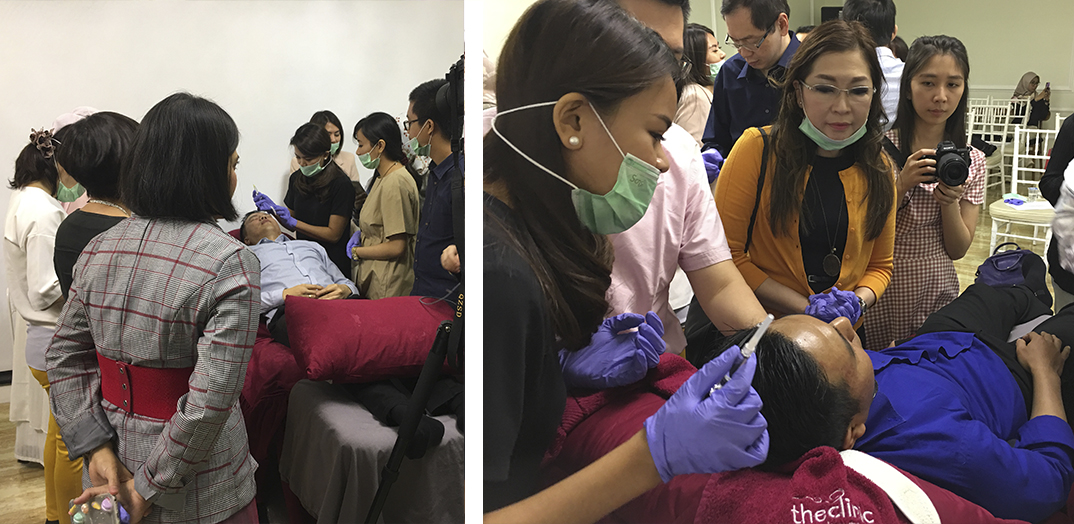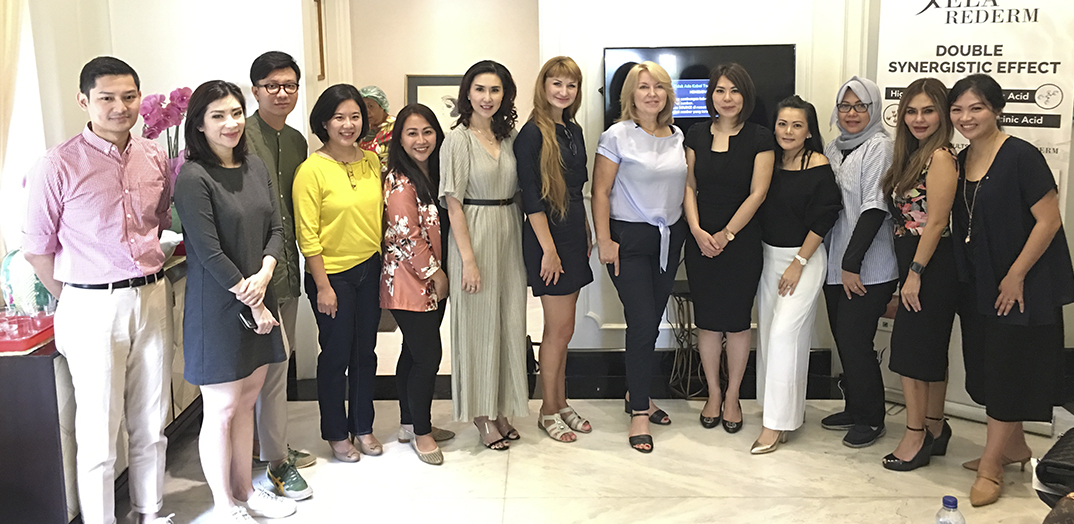 Commenting on the event, Dr. Lesya Linnik noted the high professional level of Indonesian doctors, their keen interest in all possibilities of the Xela product and quick uptake of the operational nuances. All visitors to the master class have successfully improved their practical skills and mastered the Redermalization technique. There was even a pleasant surprise: it turns out that some doctors had received samples of our products ahead of the event, courtesy of our partners in Indonesia, and had the opportunity to perform their own studies. They were happy to share their observations at the event and elaborated on the positive outcomes of Redermalization for their patients.
In addition, a training event was held for 11 future local KOL with extensive medical practice and high regard among their colleagues.
All events were professionally filmed and photographed. Our partners are planning to prepare a series of presentations that will be used to train more doctors throughout Indonesia.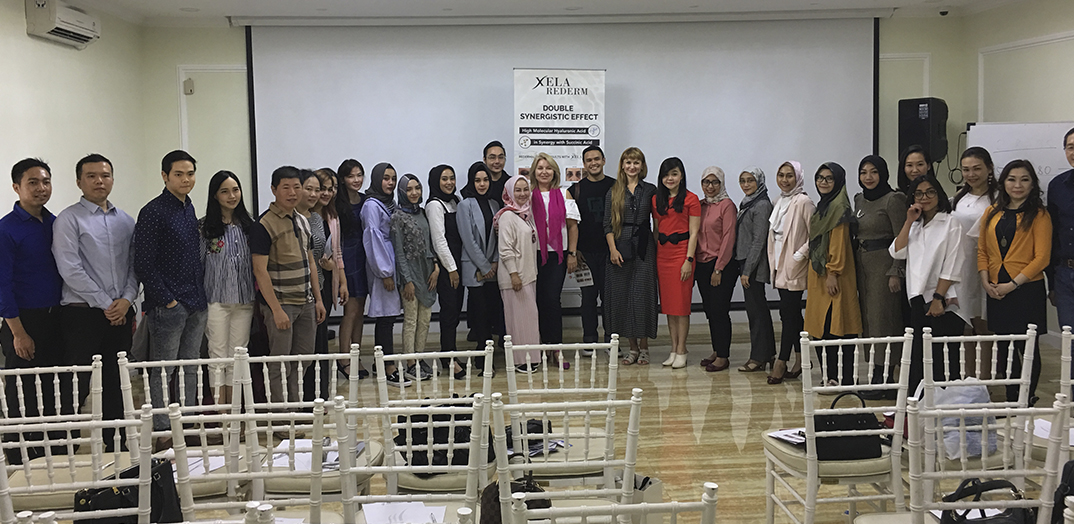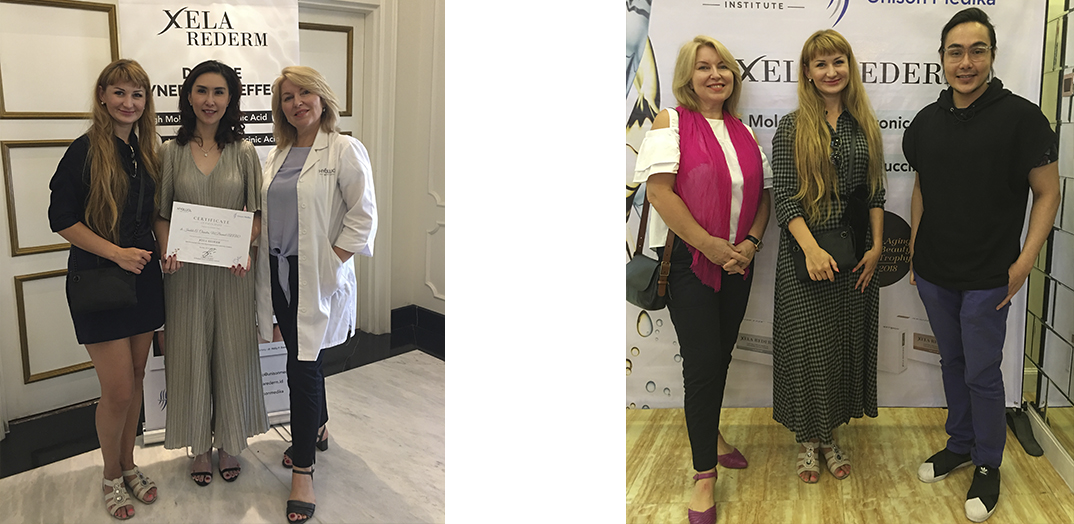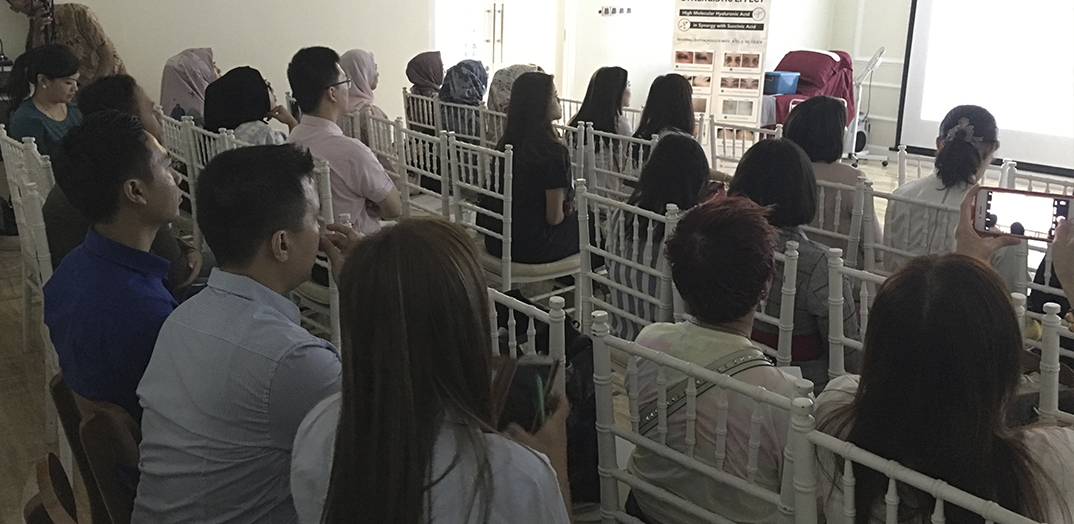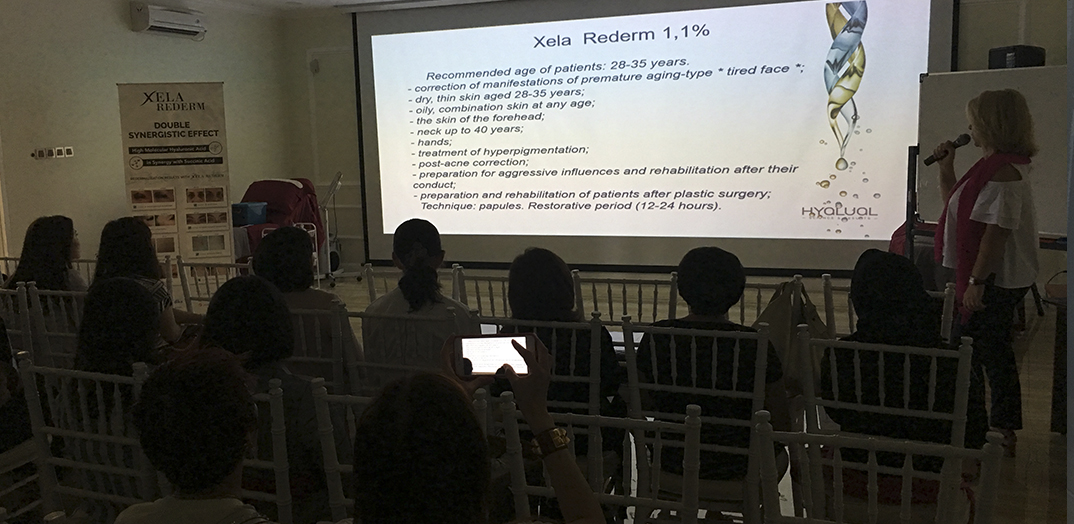 The Launch of Xela Rederm in Indonesia was celebrated with an unforgettable, dazzling gala dinner in Jakarta, which marked the end of the master class series held throughout the country.
Our distinguished guests included over 80 high-profile medical professionals from all over Indonesia, the national TV channel and other mass media, celebrities and social media influencers. They all gathered in the lavish banquet hall of a five-star hotel to celebrate a new milestone: the availability of the unique and innovative product Xela Rederm in Indonesia.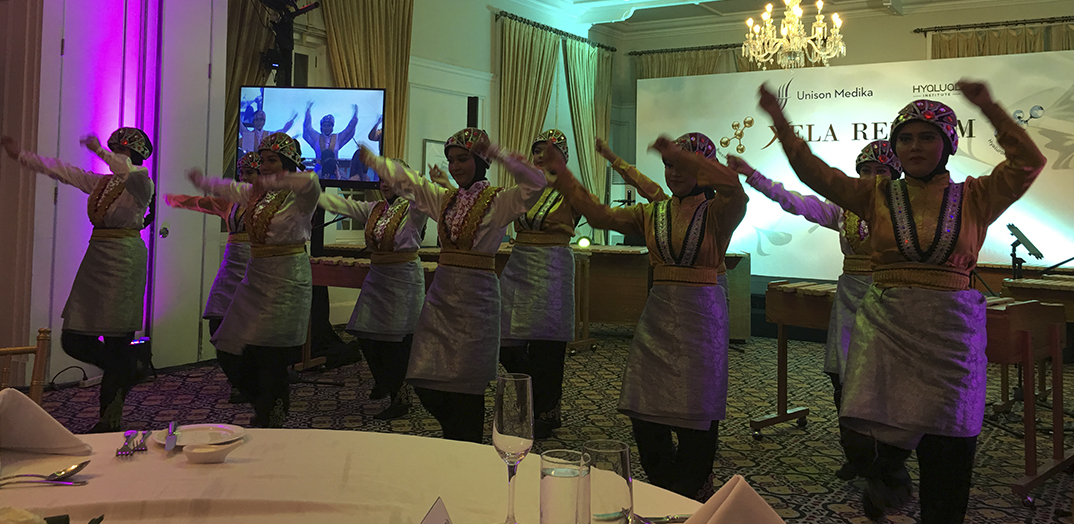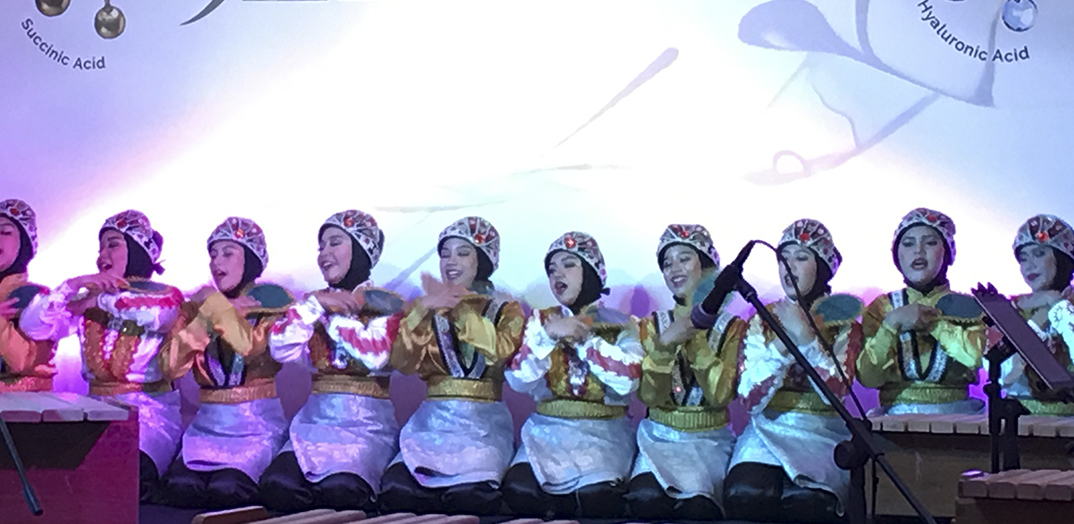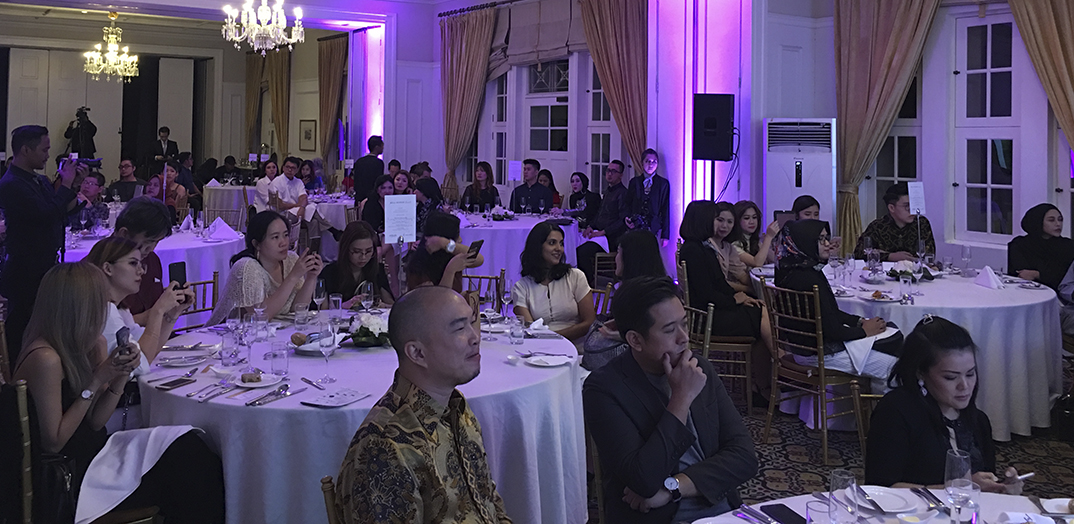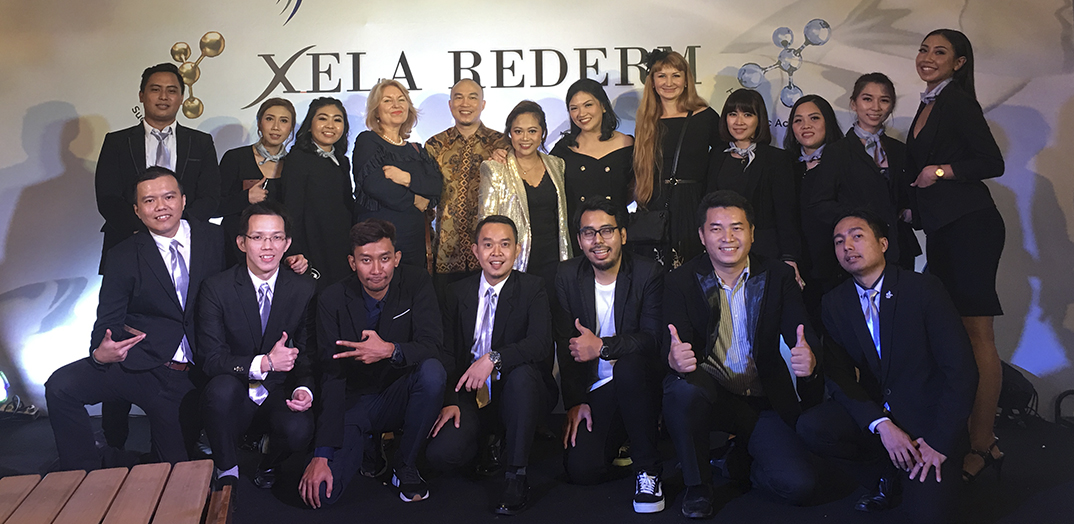 The entertainment for the gala was provided by famous TV hosts, popular musicians and talented dance troupes. Our partners have truly outdone themselves in organizing the entertainment: even the dancers' costumes were adorned with elaborate gold and silver details, mirroring the combination of the previous amber succinate and hyaluronic acid. The unique properties of Xela enjoyed the undivided attention of our guests. The presentation was accompanied with addresses by high-profile doctors and video presentations. At the end of the night, all guests received valuable prizes and gifts, including the coveted and treasured Xela Rederm kits.
Over the next few days, the gala was covered on national TV, while over 11 glossy magazines published articles detailing the wondrous properties of Xela. Our warmest thanks go to our exclusive partners at Unison Medika for this beautifully organized event.
See also:
Institute Hyalual in AMWC, Monaco 2018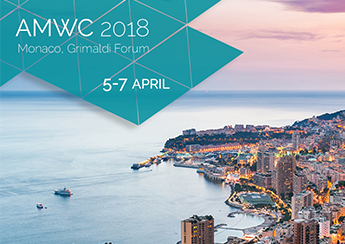 18.04.2018
Виктор Шавлак
Jamil El Rahi
Robert Chmielewski
Publishing language by_language.
Since 2012 Institute Hyalual is an exhibitor and partner of Aesthetic & Anti-Aging Medicine World Congress (AMWC) and this year – Gold Sponsor.
This year's congress theme was dedicated to innovative techniques and approaches in aesthetic & anti-aging medicine. And we presented our new techniques of Redermalization as a new approach in skin antiaging medicine and the unique microneedling device for body skin perfection – Xela Shape.